Main menu
---
case studies
1) Lido di Dante-Lido di Classe, Ravenna (Italy)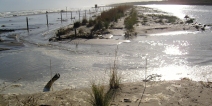 Main characteristics: Natural with dunes, river mouths - defended coastline, infrastructures, high touristic value, microtidal.
In Italy the case study site is the Lido di Dante-Lido di Classe area, 8 Km of sandy beaches along the coastline in Emilia-Romagna, facing the Adriatic Sea, northern Italy. Here the main issues are related to dune erosion, overwash processes and subsidence. The area is partly located in a natural park and partly exploited for tourism and oil extraction activities. There are two river mouths: one represents the northern boundary of the study site (Fiumi Uniti); the other is located in the central part, inside the natural park (Bevano). Part of the site is protected by breakwaters and groins and the subject of beach replenishment schemes. The touristic value of the area is very high due to many economic activities that take place along the coast (hotels, resorts, restaurants, etc.). The area is microtidal.
Linear lenght: 8 kilometers.
Localization: see in Google Maps.
2) Ria Formosa Barrier-Island System, Praia de Faro (Portugal)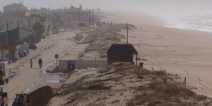 Main characteristics: Barrier-islands, dunes, overwashes, inlets, high touristic value, infrastructures, mesotidal.
The study area is the Ancão Peninsula which is the westernmost barrier of the Ria Formosa barrier island system. It is a NW-SE oriented sandy barrier that is attached to the mainland by its western terminus (Figure Pr1). The Ria Formosa barrier island system is mesotidal, with a mean tidal range of about 2 m that can reach up to 3.5 m during spring tides. An analysis of two years of records from a tidal gauge on the Algarve Coast (Lagos, Figure Pr1) showed a maximum observed storm surge level of +0.75 m (Gama et al., 1994). The return period of a sea level 2.23 m above Mean Sea Level (MSL) is 10 years (Gama et al., 1994). The offshore wave climate is dominated by westerly-southwesterly waves (71% of occurrences, Figure Pr1; Costa t al., 2001). SE wave events that consist of short period waves generated by regional winds (locally called Levante) are also frequent (about 23%, Costa et al., 2001). Wave energy is moderate with an average annual significant offshore wave height of 1.0 m and average peak period of 8.2 s (Costa et al., 2001).
Linear lenght: 8 kilometers.
Localization: see in Google Maps.
3) La Victoria Camposoto (Spain)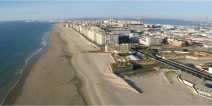 Main characteristics: Urban beach, high touristic value, defended coastline, infrastructures - natural sand spit with dunes, overwashes, river mouth, salt marsh, touristic value, mesotidal.
In Spain the laboratory field sites will be two of the most representative of the beaches around Cadiz, in Andalusia, facing the Atlantic Ocean. This area provides the opportunity for studying the effects of storms on different types of coastal environments, including both highly urbanized areas and nearby natural zones. The urban beach will be located in Cádiz city (La Victoria beach), that is backed by a promenade and has been artificially nourished several times since 1992 (up to 6 times in some areas). The natural counterpart will be the Sancti Petri sandspit, a natural beach backed by dune ridges and salt marshes; here overwash processes are quite frequent due to the exposure conditions in the area, despite the absence of direct interactions with human activities. The total length of the case study sites is approximately 10 Km. The area is mesotidal.
Linear length: 10 kilometers.
Localization: see in Google Maps.